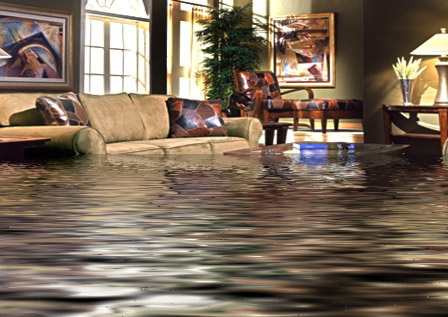 Water damage, whether caused by leaks or condensation, can lead to wood rot, peeling paint, insect infestation, a shorter lifespan of roofing and siding and higher maintenance costs. It may also cause permanent structural damage to the house and erode its strength.



In most cases, water damage from poor or infrequent maintenance, neglect or general deterioration is not covered by your insurance. Why take a chance? Learn where your home is most likely to suffer water damage, and what you can do to help prevent it.



Outside your home

Inspect the roof for punctures, cracks or breaks. Clean and seal any damage you find. Also inspect and clean rain gutters, downspouts, and extensions for leaks or holes. Make sure those downspouts are extended at least two meters away from your home.
Inspect outside walls, doors, and windows each spring and fall for unusual wear or tear. Water and moisture can penetrate these common areas if they're not maintained regularly. Repair or replace caulk, weather stripping, glazing, window seals, door seals or any other exterior area damaged by use, abuse or normal weathering. Examine your exterior siding and replace any missing or damaged fasteners or screws. Repair or replace punctured siding.
Inside your home

Check for leaking faucets, dripping or "sweating" pipes, clogged drains, and faulty water drainage systems. Inspect washing machine hoses for bulges, cracks or wetness. Replace them every few years or sooner if problems are found. Inspect the water heater for signs of rust or water on the floor.
Periodically check hard-to-reach spaces around the water heater, under sinks, and behind washing machines. Check the ice maker lines and filters for your refrigerator, too.
Check the showers and bathtubs, remove and replace deteriorated or cracked caulk and grout. Water can leak through these damaged sealants, causing stains or soft areas around nearby walls and floors.
Check for water damage in wood materials such as walls, beams, or floors. Any wood exposed to the exterior can potentially lead to moisture intrusion or termite infestation.
Eliminate excess water or moisture

Homes can trap excess moisture and condensation inside, especially if you do not have adequate ventilation. This unwanted moisture shows up as musty odours, rusty stains around light fixtures, damp and sticky floors, mildew along with the ceiling, wall and baseboard edges, dripping pipes, condensation on windows and cold surfaces, and mould and mildew growth.
Keep inside air circulating with vents and fans to avoid condensation. Use exhaust fans in the bathroom when showering. It's a good idea to have an exhaust fan installed in your laundry area and use it when doing laundry. Also, make sure your dryer is vented to the outside.
Make sure that basement windows and doors have built-up barriers or flood shields. Inspect sump pumps to ensure they work properly. A battery backup system is recommended. The sump pump should discharge as far away from the house as possible.
Consider installing backflow valves or plugs for drains, toilets and other sewer connections to prevent sewer backup. Remember that sewer backup prevention valves need to be cleaned annually.
In the fall, turn off the water supply to outdoor faucets and drain pipes.



Protect your home when you are away:
Turn off the main water supply and drain the pipes.
In winter, arrange for someone to visit your home daily to make sure that it is adequately heated. The extreme cold could cause water pipes to burst and result in extensive damage in a short time.
If you can not turn off the water supply or arrange for someone to enter your home, a temperature alarm can be installed and linked to your monitored home security system as an alternative.
If you discover water damage:
Take steps to protect your property from further damage.
Shut off the main water supply to ensure that your belongings are not damaged further.
Turn off electrical power to the affected area and unplug and remove electrical appliances.
Move items out of wet basements and away from flooded parts of your home and place them on an elevated surface.
If the sanitary sewer backs up into your basement, do not flush the toilet or turn on any taps as this will only cause further flooding.
Take photos of the damaged property and inform your insurance company.